Your full name:
Duchess Cecilia Jonsdotter. Currently residing in Knight's Crossing (Stuttgart, Germany).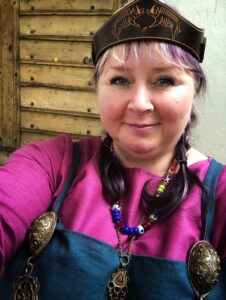 About:
My first event was Medieval Week in Styringheim (Visby, Gotland, Sweden) in 1991 after running into the group on vacation with my now husband Prothall in 1990. We went home and decided to go back the next year to participate.
The years went by quickly and we went to every event in Nordmark we could and met a lot of wonderful people. In 1993 it was decided that Drachenwald would become a Kingdom and we decided to go to Polderslot (The Netherlands) and participate in the first Crown Tournament. It went well and we ended up in the semi-final losing to Sir Elffin who would go on and be the first King of Drachenwald together with the wonderful Queen Vanna by his side.
We continued to be very active and since travelling outside Nordmark was so much fun we added the rest of Europe to our travelling as well. We also went to our first Pennsic in 1993. It was the beginning of twelve consecutive trips to Pennsic. I have also been to five or six Estrella Wars and one time to Gulf Wars. Travelling to events outside of your own region is so rewarding!
Early on, I believe in 1992, Mistress Alienor took me as an apprentice. She has been my role model ever since. I never took the Laurel path but she has been my peer and my sounding board and I never saw the need to be a protégé to a Pelican. That was until 1995 when she became a Pelican. My own elevation happened at Double Wars two years later in 1997.
After my husband won Fall Crown in 1998, I reigned as the 12th Queen of Drachenwald Spring of 1999. We liked the experience and decided to try again and so I became the 15th Queen of Drachenwald. It was an honour and privilege to serve Drachenwald in this capacity. In 2006 we moved to Germany and the Barony of Knight's Crossing. Our event participation went down for a few years since moving to another country was more difficult than anticipated. In 2009 we started going to events again and found that the fun, the people and everything else was still there. In 2013 we decide to enter Fall Crown again and so I served as the 42nd Queen of Drachenwald. A Drachenwald that was completely new but still somewhat the same.
Except for serving as Queen three times, I have also been Treasurer in the Principality of Nordmark and Kingdom Seneschal.
Interested in:
Embroidery and calligraphy/illumination.
Likes:
Meeting friends (new and old), the sense of family that SCA gives me and listening to/experiencing the vast knowledge of the people around me. Kindness is everything. Also, good beer and whisky.
Doesn't like:
Cheating and people being treated unfairly for whatever reason. We are all equals and everyone deserves to be treated with respect.
Proteges:
None